Deutsche Version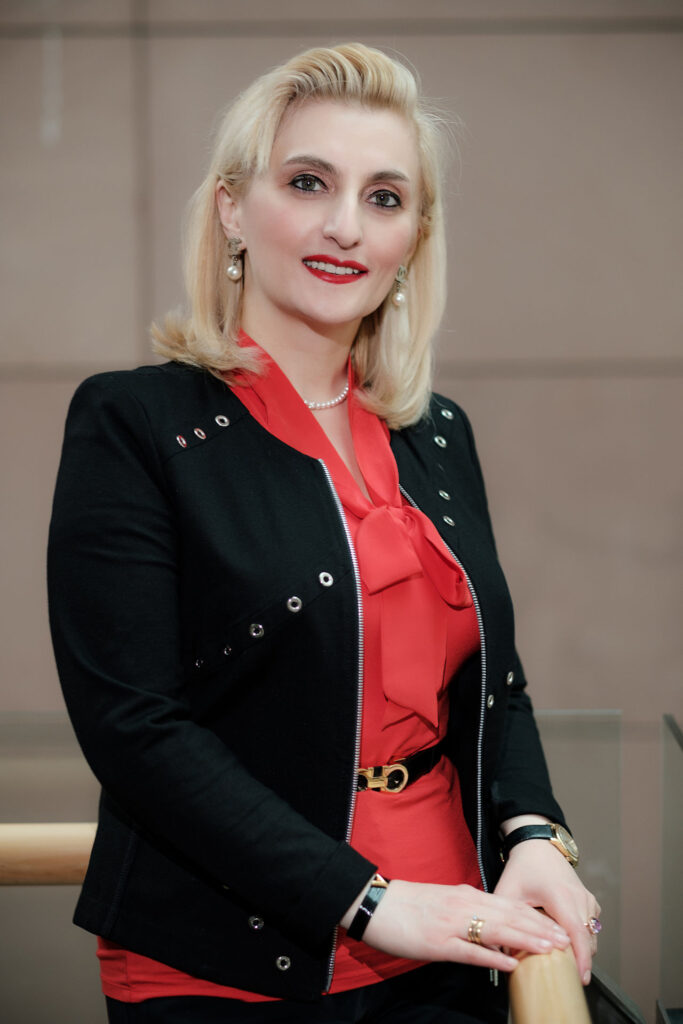 ALONGSIDE HER SOLO CAREER AS A CONCERT PIANIST, CATHERINE GORDELADZE TEACHES AT THE KALAIDOS UNIVERSITY OF MUSIC IN ZURICH. AS A FORMER STUDENT OF LEGENDARY ALEXIS WEISSENBERG, SHE IS AN IN DEMAND PEDAGOGUE. IN ADDITION TO UNIVERSITY ACTIVITIES, CATHERINE GORDELADZE GIVES PRIVATE LESSONS AND TEACHES PIANISTS ONLINE, NO MATTER WHERE IN THE WORLD. WITH YEARS OF UNIVERSIY EXPERIENCE SHE GIVES YOUNG PIANISTS DIVERSE SUGGESTIONS AND IMPORTANT IMPULSES FOR FURTHER DEVELOPMENT AND OFFERS PREPARATION FOR ENTRANCE EXAMS OF GERMAN AND SWISS MUSIC UNIVERSITIES IN THE FIELD OF PIANO.
The stages in her training extend from attending the specialist elite school for gifted children in Tbilisi, followed by a master's degree and post graduate studies at Tbilisi conservatoire with one of Georgia's most famous teachers, Nodar Gabunia, a pupil of Alexander Goldenweiser and Aram Khachaturian, to the final performance examination at the Musikhochschulen of Frankfurt and Weimar by Bernhard Wetz, Rainer Hoffmann und Rolf-Dieter Arens. Her artistic development underwent decisive influences in Switzerland when she met and subsequently became a long-term pupil of legendary pianist Alexis Weissenberg, himself a one-time pupil of Arthur Schnabel and Wanda Landowska.
Catherine Gordeladze brings together the musical traditions of Georgia and Germany to create an unmistakable personal style.
Ever since 2007 she has also served on the jury at various music competitions.
---
News:
Masterclass Catherine Gordeladze
July, 29th-August. 2th, 2021
International St.Goar Music Academy
More Information: please see here.

---
For information and bookings please contact:
For Online lessons and bookings please visit and contact EugenONClassics, International Online Music Academy:
https://www.eugeneonclassics.com/InkyeongJeon
Kalaidos University of Music Zurich:
https://www.kalaidos-fh.ch/de-CH/Kontakt/Personenverzeichnis/G/Gordeladze-Becker-Catherine
Teaching Location: Frankfurt am Main
Teaching Languages: Georgian, Russian, German, English
---
Philosophy
"In my teaching I like to emphasize the development of individual and personal interpretations with the help of mental and emotional input and flexibility in performance technique. Particularly special is the bel-canto piano style, which is extremely important above all for the works of the Romantic era, in which a meticulous technical and structural development is crucial.
But my priority as a teacher is to cultivate an atmosphere of humorous informality in my relationship with each individual student, with concentrated focus and sympathetic warmth, in order to build up and maintain mutual trust, so that each student's individual artistic personality can develop and truly blossom."